Prof Shahzad Shams Best Spine Surgeon in Lahore Pakistan
Best Spine Surgeon for Endoscopic Minimally Invasive Keyhole Disc and Spine Surgery
Prof. Shahzad Shams is one the best spine surgeon in Lahore Pakistan with vast experience of complex spine diseases and pathologies. He is an expert and master of Endoscopic Spine Surgery, Endoscopic cervical, thoracic and lumbar discectomy in Pakistan, Endoscopic back surgery, Best neurosurgeon for endoscopic spine surgery in Lahore Pakistan, Endoscopic decompression for spinal stenosis, Endoscopic spinal fixation for spinal Injury. Advantages of Endoscopic Minimally invasive Keyhole Discectomy. Prof. Shahzad Shams presently works as Head and Professor of the Neurosurgery Department at Lahore General Hospital, LGH, Lahore.
1. Endoscopic Lumbar and Thoracic Discectomy
When disc fragments are ruptured and herniated into the spinal canal, a paramedian posterior approach is recommended. Through a 10- or 15-mm trocar via a 1.5- or 2-cm skin incision, ruptured disc fragments are excised under direct endoscopic visualization. The remaining disc between the vertebral bodies is preserved as much as possible in order to minimize postoperative back pain. Surgery can be performed under local or general anesthesia. Compared to conventional microscopic discectomy, endoscopic surgery is carried out with a smaller incision, less tissue dissection, and less bone removal.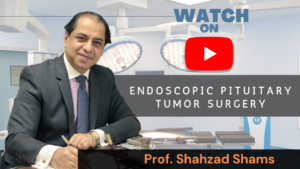 Advantages of Endoscopic Discectomy
Stay in the hospital is only for 24 hours
Results are better than open surgery
Less traumatic than open surgery
The procedure for Lumbar Disc Herniation is accomplished through a skin incision approximately 1.5 to 2 cm
Although it can be performed under local anesthesia, it has usually been performed under general anesthesia.
Operation time takes approximately one hour or less.
It utilizes an endoscope for enhanced visualization, and the operation is performed under the guidance of monitored endoscopic images.
Patients can often be discharged the day of surgery or the morning after surgery.
Patients are usually fully ambulatory immediately after surgery.
Patients are often able to return to work in 2 to 3 weeks.
It is minimally invasive surgery because the surgical incision is small, surgical dissection is minimal, bone removal is minimal, and disc removal is limited to the ruptured portion of the disc.
It still achieves the goal of surgery that the classic conventional lumbar discectomy accomplishes.
2. Endoscopic Decompression for Cervical, Thoracic and Lumbar Stenosis
Advantages of Endoscopic Minimally Invasive Keyhole Surgery
Stay in the hospital is only for 24 hours
Results are better than open surgery.
Less traumatic than open surgery
It minimizes bone resection, maintaining spinal integrity while widening the lumbar spinal canal.
It is less invasive because spinal decompression is accomplished with a small incision, minimal tissue dissection, and minimal bone removal when compared with conventional laminectomy techniques.
The procedure is innovative because it accomplishes the effective widening of the narrowed spinal canal without weakening the spine.
It can be done on multiple levels if necessary.
The procedure avoids bone fusion or the use of metal implants and allows the patient to be more mobile immediately after surgery.
It is often done on an overnight stay basis.
Prof. Shahzad Shams is the best neurosurgeon for Endoscopic minimally invasive keyhole disc surgery and spine surgery and Endoscopy.
Prof. Shahzad Shams receives patients from within the country from cities in Pakistan like Lahore, Sialkot, Faisalabad, Bahawalpur, Gujranwala, Gujrat, Multan, Karachi, Hyderabad, Quetta, Peshawar, Rawalpindi and Islamabad, Abbottabad, Rahim Yar Khan, and Sargodha and abroad like from US United States of America USA, United Kingdom UK Britain England, Canada, Italy, Greece, Germany, Spain, Australia, Saudi Arabia, United Arab Emirates UAE, Dubai, Kuwait, Qatar, Bahrain, and Afghanistan.